Our mission…
We strive to provide excellent veterinary care with integrity and compassion. Clients can expect collaboration and honesty. Patients can expect that their needs come first. We are devoted to providing care that optimizes healing and make every effort to listen, understand, and empathize. We treat everyone (patients, clients, and each other) with dignity. We provide options to our clients to ensure they can make informed decisions.
Please give us a call at 541-593-8128 or schedule an appointment today.

We are dedicated to preventing fear, anxiety, and stress in your pet.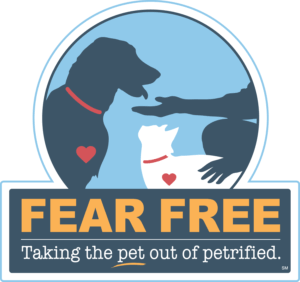 We know that bringing your pet to the vet for a visit can be a stressful time for them. Our goal is to make your pet feel less stress during these visits which is why many of our staff and doctors have become Fear Free® Certified.
Having staff with Fear Free® certifications means that they have had specialized training that aims to alleviate stress, anxiety, and fear while your pet is at our clinic. Our Fear Free® certified staff use multiple techniques proven to help calm your pet and make a trip to the vet as fear-free as possible.
Want to learn more about Fear Free® certification or learn how to use Fear Free tactics in your home? Visit fearfreehappyhomes.com.